Finding quality people to work on projects can be difficult, not everyone has a website to promote themselves and you often only learn about them through word of mouth. I am going to maintain a list of a few different trades that I have had good experiences with. If experiences have not been so great, that will also be noted here.
Handyman Services
Yes Dear Handyman Services – Use these guys extensively, everything from painting, AC replacement, building decks to light electrical work. They make quick work out of most jobs.
Broco Home Maintenance – worked with Brian on a couple jobs. They do plumbing, gas and handyman work.
Handyman Hands – This guy is the go-to guy for RE/MAX Commercial Solutions in Vernon. I would suggest you keep looking and avoid this one.
Plumber
If you own your own home, you know the value of a quality plumber. I have spoken to many
of them in the Vernon area most just don't seem to care.
Fifth Generation Plumbing – 250-542-5052 – Used several times, very satisfied with quality of work and availability of staff.
Broco Home Maintenance – Primarily a plumber, but may also do handyman jobs.
Electrician
Rad Energy Electric – Jeff Radies – 250-306-4868. A few people around town mentioned Jeff. I had his company do a few small jobs including, changing light fixtures, replacing some undersized wiring and adding new power receptacles.
Litzenberger Electric – Marcel Litzenberger – 250-309-1295 / 250-542-3217
Drywall
Before you get to the paint stage, you are going to need some drywall. Have not tried any of these companies, just putting them here for future reference.
Copper Fox Interiors – Mark Ward – 250-309-2831
Painters
Paint Special – Used these guys once to paint a condo. The actual quality of the painting was OK but they were very messy. I had to spend $200+ to have all the paint removed off the floor and electric baseboard heaters when they were done. Will not use them again.
Home / Garage Plans
If you are looking to have some construction done, maybe adding a garage or new home consider Accu-Rated. They are a small firm out of Kelowna. *UPDATE* As of August 2018, it looks like this company may not even exist anymore.
Trash Removal
If you don't have enough trash to rent your own dumpster, check out Dump Runz.
Bagster, dumpster in a bag is a good option for small renovation jobs.
Cleaning Services
Twila Harsch – 250-550-8059 – Have used Twila a few times, she knows her stuff.
The Clean Gecko – Used only once, staff were slow and quality not very good. Your mileage may vary with this one.
SERIOUS Cleaning Services
If you find yourself with a disaster, such as fire or flood you are going to need to call in a professional remediation company.
On Side Restoration – After a flood in a condo I contacted these guys. Probably the best experience I have ever had with a company, anywhere. They worked directly with the insurance company and got the problems sorted out.
Pest Control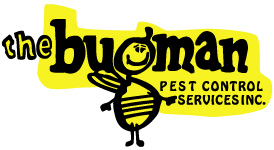 If you have creepy crawlers around Vernon, call The Bugman Pest Control. Young crew of friendly guys, they responded quick when I called them.
Mudjacking
Not a service most people need, but if you have concrete that has slipped or sunk the process of mudjacking or foamjacking can save you a bundle.
Accurate Concrete – Based out of Armstrong BC, worked with Russ to lift a set of steps that had fallen away from the house.
Property Management
If you are looking for someone to manage a property, there are not many choices in Vernon. The real truth is no property manager would ever take care of your property like you would. Unfortunately I can't recommend any of the ones listed here, if you know of someone that does property management in Vernon, let me know.
RE/MAX Commercial Solutions – They currently manage one property for me, when the current tenant moves out the property manager will go with them.
Associated Property Management – I suspect they don't really operate in Vernon, but they do list and office address and phone number.

Delaney Properties – Have heard nothing but bad things about these guys.
Century 21 Executive Realty, Property Management – I know nothing of these guys but they claim to provide property management in Vernon.